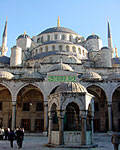 Blue Mosque Entrance

Grand Bazaar
MORNING
Blue Mosque:
Its magnificent series of domes and semi-domes, its six slender minarets sprouting from the corners of the mosque, its spacious courtyard, and its grandiose yet elegant proportions, make the Blue Mosque one of the architectural marvels of the world.
Hippodrome and Obelisks: The ancient Hippodrome, the scene of chariot races and the center of Byzantine civil life, stood in the open space in front of the Blue Mosque.
Haghia Sophia Museum:
Haghia Sophia was built at the command of Emperor Justinian in the years 532 to 537. The courtyard of Haghia Sophia harbors a number of minor but fascinating Ottoman structures.
Grand Bazaar: The Grand Bazaar was built at the command of Fatih Mehmet shortly after the Conquest. It contains 4399 shops, 2195 workshops, 497 stalls and 18 fountains.


Hippodrome : Center of sport activities and political events of the Eastern Roman Empire.


Grand Bazaar : Famous shopping center worldwide. Shopping possibilities for carpet, jewellery, leather etc.
Launch Included

AFTERNOON
Topkapi Palace:
As the administrative center, for nearly 400 years, for the Ottoman Empire, which was one of the greatest empires of the world, Topkapi Palace is certainly the most important historical site to be visited in Istanbul. That is the reason why Topkapi Palace is one of the most frequently visited museums of Europe with a number of more than 2,5 million visitors per yerar.
In 1461, less than ten years after the Conquest, Fatih Mehmet ordered the construction of Topkapi Sarayi a palace that would be known as Dar-us Saadet, the "House of Felicity". Topkapi Sarayi remained the seat of the Ottoman Sultans until 1868, when Abdülmecit I moved to the European-style Dolmabahçe Palace farther up the Bosphorus.
Suleymaniye Mosque:
Suleymaniye is without question one of the greatest works of its architect, Sinan. Begun in 1550, the mosque was completed in 1557, with two more years required in order to finish the entire complex (kulliye).
Harem:
The same wall has surrounded this mysterious and magical place, for centruies hiding the faces, the history and the dramas that unfolded in theese rooms.